The Wheels of Bureaucracy Turned Slowly
Already in those days, the wheels of bureaucracy turned infinitely slowly. On March 24, 1947, Peter Bröckskes sen. had filed the petition- the permission was dated 1st September. The city council of Süchteln was way faster: The trading license was set on June 4, 1947. Thus, this date also means the official date of foundation of the company SAB BRÖCKSKES
Fast he hired some employees. At that time, important clients of alarm systems have particularly been the regional farmers. They were able to pay the bills – with bacon or other food. Money did not have any value at that time. Despite those unfavorable conditions, the company grew. Until the currency reform in 1948, Peter Bröckskes occupied 18 employees.
Never Focusing only one Field of Business
Even at that time, the founder of SAB did not want to focus on only one field of business and therefore, offered a long list of activities like, for instance, construction monitoring, calculations, and low-voltage current systems. In 1948, the currency reform evoked a deep watershed where money started playing an important role again. The company shrunk and was a one-man-business again in 1950.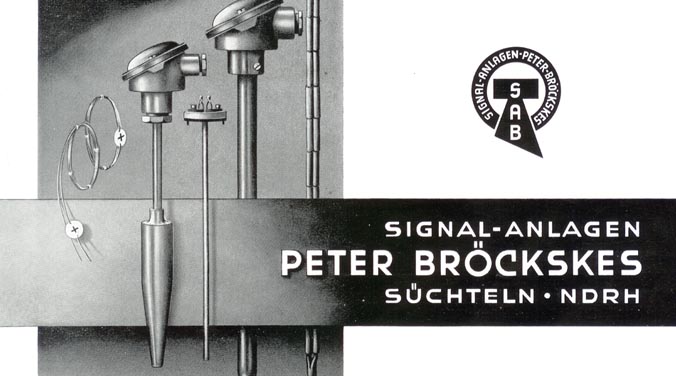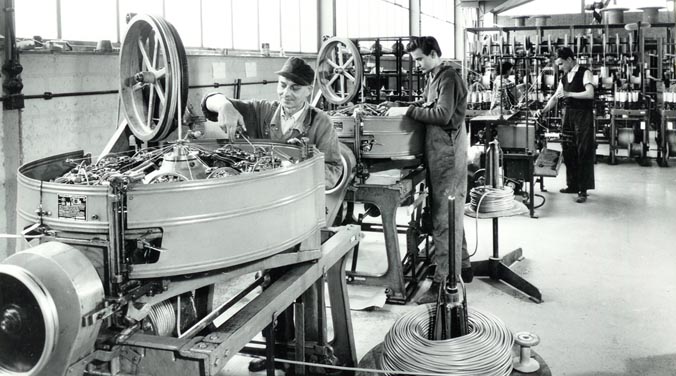 In 1960, Sales Exceeded one Million for the First Time
In 1960, Peter Bröckskes sen. converted the company in a GmbH and sales exceeded the one million threshold for the first time. Only five years later, Peter Bröckskes raised sales eight- fold. In the meantime, the company also started producing compensation cables, measuring cables, temperature resistant cables, cables with asbestos and silicon insulation as well as oil and gas resistant control cables. Temperature sensors and the correspondingly required special cables for the plastics processing industry rounded off the extensive delivery program. In 1966, Peter Bröckskes had to double the size of production area by a second workshop and until 1967, he increased the staff by around 50 employees.
First Export to Trinidad
Early on, the company started to also export its products. The first shipment – a measurement system – was sent to Trinidad. Still, most orders came from countries near by but also from India, the Eastern bloc, Africa, North America, Japan and Australia. In the mid sixties, already 40 percent of production was exported.
Permanent Space Problems
In 1972, the company SAB had almost one hundred employees and celebrated its 25th anniversary. The party took place at a time of active construction work. Frequently, company buildings were extended. In 1978, the production burst at all seams and Bröckskes bought the neighboring and held for sale area on which he commenced plant II one year later. Simultaneously, he converted the company in a "GmbH & Co. KG".