Hybrid Cables - Multifunctional Cables and Wires
Multifunctional Hybrid Cables | For technical reasons, connection solutions cannot always be realized with standard cables. As a long-standing manufacturer of hybrid cables with combined construction elements, we have the ambition to develop the right connection solution for every customer and application. You can rely on us to apply our more than 75 years of experience in engineering and manufacturing of hybrid cables to develop the perfect connection solution for your specific application.
Together with our customers, we develop electrical cables & wires based on your requirements and the individual application. It does not matter whether a cable from our program has to be modified or a completely new hybrid cable has to be designed. We work intensively with you to realize your technical requirements. Anyway, you will profit from our variedness and flexibility, that besides our wide standard product range of cables count among the special strengths of our company.
SAB manufactures customized hybrid cables from 300 meters upwards, and for certain cross-sections already from 100 meters. Exactly according to your specific technical requirements.
In order to develop the optimal hybrid cable for your application, we need to know the exact application of the cable as well as your technical requirements. Of course, you can contact the SAB team directly and communicate your technical specifications.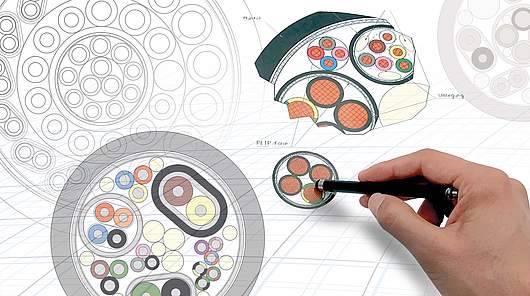 How is a hybrid cable constructed?
Hybrid cables can be constructed based on the following parameters and can be modified and optimized for the specific application depending on the customer's requirements.
conductor material
number of cores
cross sections (data transmission & power supply)
colours
outer diameter
flexibility
low and high temperature resistance
materials n types of screening
combined cables n technical specifications
optical waveguide
number of fibres n POF (polymeric optical fibres)