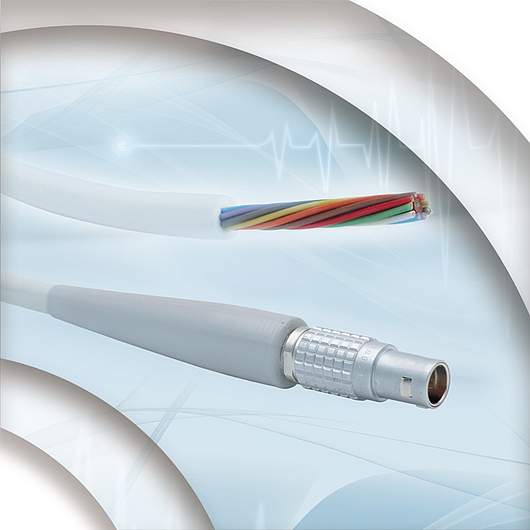 Overmoulded cable solutions for medical technology
Connection cables for medical devices and treatments are often subject to demanding requirements in daily use, be it through cleaning, disinfection or handling. A well thought-out system solution is a key factor for reliability and completes the individual application.
The special cable manufacturer SAB is expanding its range of medical cables with a new plug & play solution with overmoulding ,made of medical grade silicone or thermoplastic elastomers as a consistent implementation of market requirements. In order to achieve a secure and smooth material connection between the electrical line and the plug, all the necessary components are fine-tuned to each other.
The results flow directly into production. This benefits the manufacturer of medical components as they can rely on the proven support of the biocompatible base material prototype and 0 series through manufacturing lengths starting at 100 m. "This can only be achieved through constant dialogue with customers "explains Marc Gerlatzek, SAB Medical Product Mananger " We count on our material diversity, experience and constant investment in the machine park at the site in Viersen.
Possibilities for overmoulded plugs and nozzles are available for nearly the complete cabling solution of the SABmed Line material family. Medical cables with the flexible and smooth SABmed T can be engineered and customer customised to produce thermoplastic and elastomeric materials with better haptics than conventional thermoplastics.
If a medical cable with UL approval is needed the material SABmed S UL is used. The base material can be offered as a platinum cross-linked variant, with an ultraflexible sheath or with an non-adhesive surface.
New developments, such as autoclavable USB 3.0 cable are already being designed by SAB Bröckskes with an outlook to possible overmoulding. Manufacturers of medical devices will be able to use this complete system solution as a tailor-made Plug & Play product "from a single source" for greater design freedom in the development of devices.
Cable manufacturer – SAB Bröckskes is a worldwide leading manufacturer of cables and wires, cable harnessing and temperature measuring technique. More than 60 years of experience in cable manufacturing as well as in temperature measuring technique have made out of a one man business a company with almost 500 staff members. The strength of SAB Bröckskes is not only the manufacturing of standard cables but also the construction of special items. Every year SAB manufactures more than 1500 special cables on customer´s request.