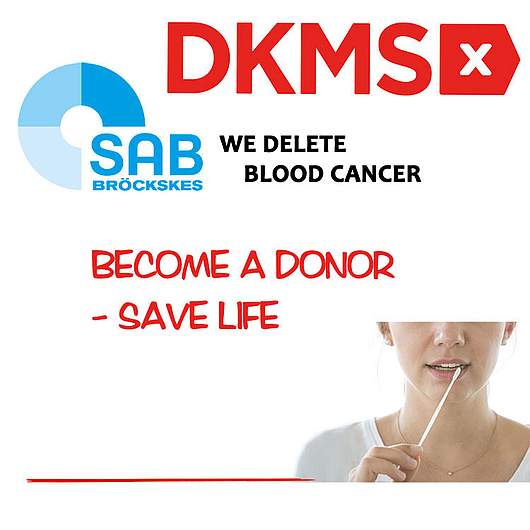 SAB is fighting blood cancer
For a transplant of stem cells to be successful, the patient's and donor's tissue characteristics need to be an almost exact match – which is a challenge, since the probability of finding a perfect match lies anywhere between 1 in 20,000 and 1 in several millions. Only a third of patients find a suitable donor within their families. The majority of patients require an unrelated donor. Therefore we need to get as many people as possible registered, to increase the chances of finding a matching donor for every blood cancer patient.
The DKMS gemeinnützige GmbH is a not for profit organization and was founded in 1991. With more than 6.3 million registered stem cell donors and international locations like Germany, the USA, Poland, Spain, and the UK, the DKMS family is the largest association of stem cell donor centers worldwide.
As a registered stem cell donor with the DKMS gemeinnützige GmbH, you get a chance to save the life of a blood cancer patient. More than 6.3 million donors have already registered and joined the DKMS family. Because of this enormous support, DKMS has already made over 56.000 stem cell donations possible in the past 24 years, thus giving many people a new chance at life. However, currently a matching donor still cannot be found for one out of every seven patients in Germany alone. That's why we need you!
SAB Bröckskes will help by organizing a donor drive campaign within the company. Sabine Bröckskes-Wetten (CEO) called all staff members at SAB Germany to have themselves entered into the DKMS. The registration of a potential lifesaver at the DKMS costs 50 EUR. SAB Bröckskes is prepared to take over this amount for all staff members who are willing to help. The donor drive will take place at 7th of March as well as the 14th of March 2018 on the SAB company ground. The more donors who register, the more lives can be saved.
Thank you for joining SAB in the fight against leukemia. Together we can help make a difference.